April
Wow!! Yusi aka Kajsenborg's Special Delivery got another BEST IN SHOW in Russia this weekend! Thank you and
congrats
to her amazing owners
❤️
❤️
Thank you
David Roberts
for capturing Ana in the act! After her BOS at crufts, she went on to be res. Best bitch at National Terrier !! Her first two times in the UK and first two times out as a veteran, she still got IT !! Now she will rest up until she is 8 and officially a veteran according to FCI, then she might appear in the show rings again
❤️
Kajsenborg's Dirty Diana
April
Oh the charm of being awake in the middle of the night! Getting news like this right away and don't have to wait until the morning
😁
😁
Team America
❤️
🕊
💎
!!
🍀
Kanix Don Domingo
🍀
thank you team
😘
April
Stoffer is proud! He is qualified to Crufts by life, by going res. best male at the prestigious National Terrier.
Ana was BOB Veteran and res. best bitch.
❤️
❤️
nice to catch up with all English Friends
31.03.2018
NDS "Курганские Встречи" г.Курган.
Kajsenborg's Special Delivery - CAC, BOB, BIG-1 !
I'm very proud to share the news, that this handsome gentleman is staying at Kennel Kajsenborg's for a little while! Beautiful terrier type!
Thank you breeder and owner Alessandro Famigliettiand Manuela Ciampalini
Mr. Cipi's 10.000 Miles But I'm Here
⭐️
Phil
So proud to share with you all, our little France boy Piet.
No One Else Russtyle's du Vallon De l'Alba
Thank you
Irina Moskaleva
and
Joelle Hisleur
Owner
Winnie Hauge
and I
This day will stand in my mind for a VERY long time!!!
Kajsenborg's Dirty Diana BOS from veteran class at Crufts 2018 !! Judge Jan P Wood...Thank you for all the
congrats
ringside, massages, on Facebook and calls
<3
<3
Multi Champion, Muliti winner, multi BIS Winner. European Winner.
Kajsenborg's Dirty Diana
⭐️
Ana
⭐️
at home before she went to Crufts 2018 where she rocked the ring winning BOB Veteran and BOS !!!!! 7 years young, she is AMAZING
🌹
My first Crufts with my own breeding!!!
Didn't expect this to be such a memorable one! Thank you to all who have congratulated me, it's so overwhelming
😅
❤️
the ONE and only Ana, Kajsenborg's Dirty Diana, first time in the ring with me in 4 years!! And she did it! BOB Veteran and BOS
❤️
❤️
❤️
❤️
crazy as always, not acting her age
🙈
Iben, Kajsenborg's Shameless was 2nd in Open Bitch. Penny Kajsenborg's Freeek 4th in junior class!! And Stoffer the Lakie Kajsenborg's Special Offer was 3rd in Open Dog!! PROUD can't start to cower how I feel
❤️
❤️
USA
Kanix Don Domingo
BACK TO BACK group ONE !!!


What AMAZING news to wake up to!!!!
MartinandVanessa Skou and there little Russell girl Peach Kajsenborg's Peach Fruit. got another BEST IN SHOW on Hawaii, USA and Charlotte Staunskær and the whole teams favorite Kanix Don Domingo won another res. BEST IN SHOW in USA!!!
Charlotte and I made fun at yesterday's show, not knowing what we would have to celebrate this morning! Maybe we could see into the future
🙈
😂
😂
😂
Thank you to all of you, who does such amazing work with me dogs
❤️
❤️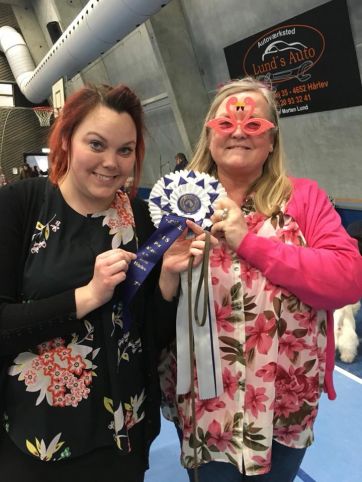 04.03.2018
Отличные выходные.
NDS - г.Екатеринбург
лейкленд-терьер
Kajsenborg's Special Deliveri - CAC, BOB, ЧРКФ, BIG-1,
BEST IN SHOW - 2 !
DTK Hårlev. Kajsenborg's Flawless aka Maybe was 2nd best female BOB junior and BEST IN SHOW Junior res. (Iben Kajsenborg's Shameless was BOB) judge Charlott Sandberg, SE.. her father Kanix Don Domingo was Res BEST IN SHOW in USA
😁
Kajsenborg*s Special Deliveri - 2xCAC, 2xBOB, BIG-1, BIS-3
Mom (
Helle Grenaae
) and I with two of the breeds we love and care about!! Spanish Water Dog and Lakeland Terrier.!
Jack Russell's are of course missing from this photo
🙈
😂
#
teamkajsenborg
Aww! Domingo and
Allison Sunderman
!! Love watching them! Domingo gets better and better! Still a young boy! Where will this end LOL
😍
😍
😍
thank you
Olga K. Forlicz
for amazing pictures of my boy!
Open show Køge....
OMG!!! Sonja "Kajsenborg's Zaragoza" BOG 2 at her very first show ever! She is Sebastian's sister and my mothers dog! WOW!!!
Celje, Slovenia we celebrate Aspen got BOB and new Slovenia Champion and Sebastian CAC and new Slovenia Champion
😁
😁
😁
thank you
Mare Ković
The stars of the day! Int Fredericia, DK
*Sanne* Kajsenborg's Amazing Arizona had her debut winning BOB Baby
❤️
JRT
*Fanny* Kajsenborg's Dirty Deal BOB!!! Big congrats to owners Lone and Ebbe!!
Great news from int. Nitra, Slovakia.
Kajsenborg's San Sebastián won CAC and Aspen, Nisyros American Dream CAC, CACIB and BOB in the great hands of
Mare Ković
! Thank you for love and care
❤️
❤️
Our first show weekend in 2018
What a great first time in Montenegro!!
Beautiful weather, and time to celebrate 3 New Montenegro Champions!!
Kajsenborg's Special Offer
Nisyros American Dream
Kajsenborg's San Sebastián
Tomorrow it's home to cold Denmark!
14/01-2018
New Champion
Kajsenborg's Dragon Fruit aka Roobe just 2 years and 2 days old, and can call himself Finnish and Estonia Champion!
Proud owner Anu Paarlahti, FI
Kanix Don Domingo
Winning the group in USA!!
Thank you TEAM